greenTEG AG develops, manufactures, and markets thermal sensors
for laser power and heat flux measurements.
The Swiss based company was founded in 2009 as an ETH Zurich spin-off
and today supplies researchers and OEMs around the world with laser
power detectors and heat flux sensors.
A novel and patented production process allows greenTEG to produce
at highly competitive prices in large volumes.greenTEG's sensors are based
on the thermoelectric effect (Seebeck-Effect).
Tiny, serially connected semiconductor piles generate a voltage when
a temperature difference between the two sides of the sensor
module occurs.his voltage can then be read out and further processed
for a variety of applications.
Sensors making use of similar technology have been around for a couple of years.
However, greenTEG can produce thinner and mechanically more robust sensor modules than its competitors.

gRAY® Laser Power Detectors
gRAY detectors enable wavelength independent (UV to MIR) measurements of laser power.
The detectors are available as bare-die components, PCB mounted, mounted, or housed.
For measurements of larger powers, integrated water channels in the housing enable cooling to keep the sensor temperature constant.
The compact and robust bare die components are especially suited for integration into laser sources where space is confined yet power measurement a must.

The PCB mounted detectors are reflow soldered onto a metal core PCB ensuring optimal electrical, mechanical and thermal coupling to the base plate.
The PCB can be conveniently mounted onto any heat sink inside the laser system with two screws.
The output signal of all thermal detectors depends slightly on the environmental temperature.
The B01-SMC and B05-SMC therefore contain a NTC temperature sensor next to the detector on the PCB to continuously monitor the module temperature if required by the application.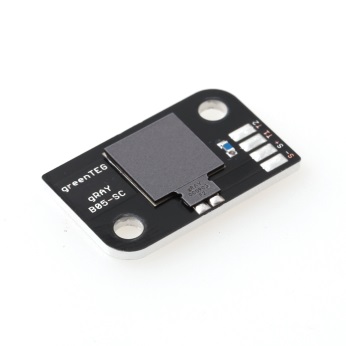 To 100 W in 200 ms
The gRay C100-HW laser power detector is among the fastest power detectors in the market.
Powers of up to 100 W can be measured with a rise time of only 300 ms for wavelengths ranging from UV to MIR.
The output signal is a normalized analog voltage between 0 and 10 V, requiring a supply voltage of 24 V.
Water cooling channels are integrated into the housing to keep the sensor temperature constant.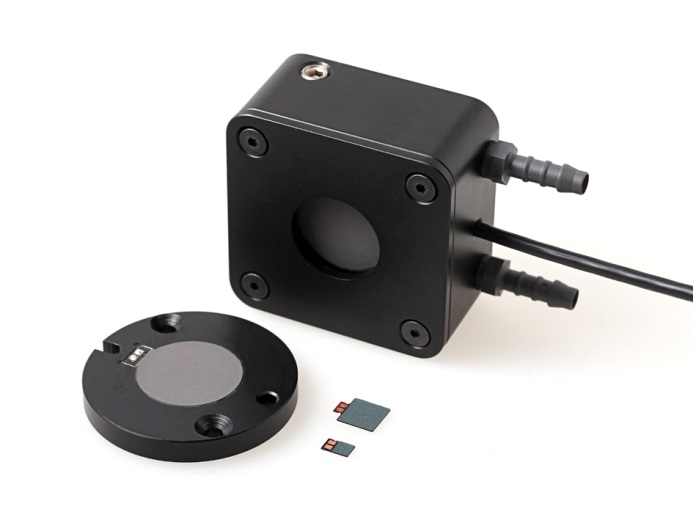 Hundreds of mW on 2x2 mm2
Space is limited in laser sources but a laser power monitor is indispensable.
Fast and small photodiodes are often the detector of choice but are limited by wavelength and a maximum illumination power.
To close this measurement gap, greenTEG developed a new detector. With the B0.5-SC, powers up to 500 mW can be detected on an area of only 2x2 mm2.
As with all the other gRAY detectors, the B0.5-SC is sensitive from UV to MIR. For easy integration the detector can be reflow soldered like an SMD component.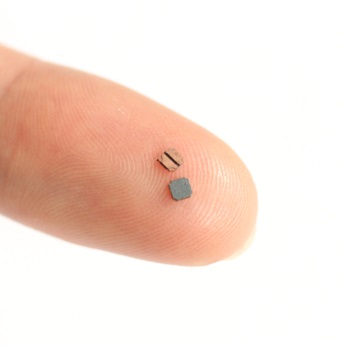 Further information about greenTEG's laser power detectors is available
at www.gRAY.greenTEG.com or www.greenTEG.com
gSKIN® Heat Flux Sensors
gSKIN® Heat Flux Sensors enable high-precision measurements of conductive, convective and radiant heat fluxes.
Heat Flux is present in any system where thermal energy is exchanged with the environment.
This could be the human body, a workshop machine or a heat exchanger. Quantifying the amount of exchanged heat provides a new dimension to the understanding of such systems.
gSKIN® s resolve heat flux in the Micro-Watt range and detect temperature gradients down to Nano-Kelvins.
The sensors are available in different sizes and can be customized to specific needs.
Among the multitude of possible applications are: thermal characterization of materials, process and condition monitoring (fouling), real time detection of thermal influences in high-precision machines, core body temperature measurement, and the assessment of insulation quality (U-value).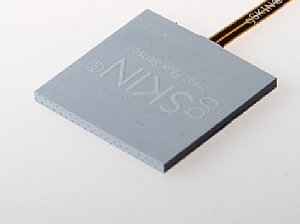 Further information, application notes, and white papers can be found at www.greenTEG.com or for specific U-value information at www.u-value.greenteg.com.
More information also can be found at WALDYTECH web site www.waldytech.com who is the reseller of greenTEG in Israel.