NovAtel CORRECT™ is the positioning algorithm on NovAtel's GNSS receivers
that handles corrections from a variety of sources, including Real Time
Kinematic (RTK), Precise Point Positioning (PPP), Spaced Based
Augmentation Systems (SBAS) and Differential Global Navigation
Satellite Systems (DGNSS).
With NovAtel CORRECT™, you can choose the corrections method that
best meets the requirements and performance objectives of your
application.The depth of NovAtel's GNSS experience, combined with
superior TerraStar correction data, sets them apart from other precise
positioning solutions.
TerraStar Correction Services offer complementary solutions for
NovAtel CORRECT™ with PPP and NovAtel CORRECT with RTK.
NovAtel CORRECT™ with PPP utilizes TerraStar correction services
to provide accurate sub-metre or decimetre positioning around the world, anytime.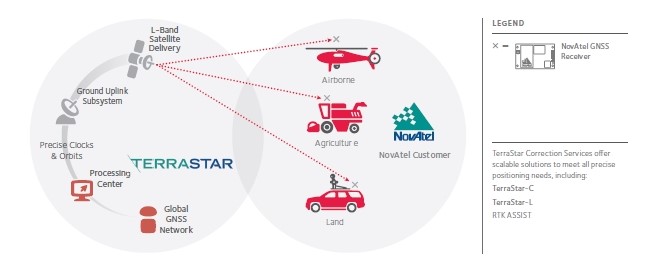 Two different service levels, TerraStar-L and TerraStar-C.
TERRASTAR-C (5 cm accuracy² , 30-45 mins)
TerraStar-C high rate corrections enable carrier phase ambiguity
resolution, enhancing accuracy and speeding up recovery from GNSS signal interruptions.
TerraStar-C is ideally suited for high accuracy and real time pass-to-pass applications
requiring centimetre level repeatability.
TERRASTAR-L (50 cm accuracy², < 5 mins)
For broad accuracy applications, TerraStar-L provides consistent sub-meter positioning
with fast initialization to maximize uptime and optimize productivity costs.

NovAtel's highly recognized Applications Engineering team is available to assist with
the integration of your TerraStar service , ensuring optimized positioning for your
application. TerraStar Network Infrastructure has over 80 GNSS reference stations
that are located around the world, operated, maintained and controlled by TerraStar.
There are seven Geostationary communication satellites, which means two beams are
always visible from anywhere on earth.
The TerraStar network has three network control centers and backup to front line support
is available 24 hours a day, seven days a week.
NovAtel CORRECT™ ensures you receive the positioning accuracy needed for your application, whether that is metre, decimetre or centimetre-level. All correction sources are optimized,
putting more power, flexibility and control in your hands.
NovAtel CORRECT™ is the culmination of over 20 years of leadership and product innovation in Global Navigation Satellite System (GNSS) positioning