FlexPak6D Enclosure

The dual-frequency, dual antenna FlexPak6D is NovAtel's latest addition to the powerful OEM6® family of receivers, offering heading and precise positioning for space constrained applications. Backward compatible with NovAtel's popular FlexPak6™ form factor, the FlexPak6D provides the most efficient way to bring GNSS capable navigation and positioning products to market quickly. As with all NovAtel® OEM6 receivers, the FlexPak6D tracks GPS, GLONASS and BeiDou signals.
This new product, with similar dimensions as the FlexPak6, reduces integration times with standardized software and hardware.
The Flepak6D provides numerous interfaces, including multiple RS-232TRS-422 serial ports as well as USB device.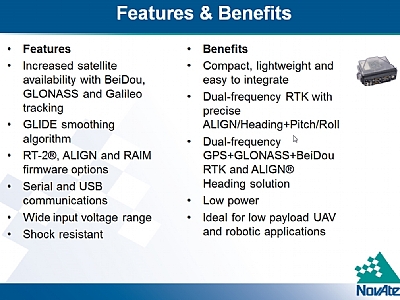 Novatel antennas can be placed in different orientations, meeting the customer specific applications.
Flepak6D provides a very flexible item with the highest accuracy, compact andlightweight, easy to integrate and shock resistant compared to other competitors similar products.
It has a safeguarded reliability thanks to the water resistant IP67 housing and its wide operating temperature range.
Novatel, proposes with the Flepak6D, a new solution to its customers and extent by this, the most extensive line of OEM receivers, antennas and subsystems